The Institute for Sport Coaching is one of over 110 American regional and national sport organizations that officially support the National Standards for Sport Coaches as the basis for creating and evaluating sport coaching education programs.
What are the National Standards for Sport Coaches? The Standards are a core body of knowledge capturing the scientific and practical competencies that administrators, athletes and the public should expect of sport coaches at all levels of sport.
The Standards, first published as the National Standards for Athletic Coaches in the mid 1990s, were most recently updated in 2006 by a national panel of sport and coaching subject matter experts, and cover the following eight domains of coaching competencies: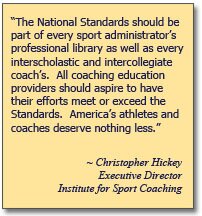 Philosophy and Ethics
Safety and Injury Prevention
Physical Conditioning
Growth and Development
Teaching and Communication
Sport Skills and Tactics
Organization and Administration
Evaluation
The Standards can be used by:
Coaches—as guidance to gain the qualifications necessary to coach athletes at all levels of sport.
Coaching Education Providers—as evaluation guidelines for their respective programs and assistance in improving learning opportunities for coaches.
Parents—as the basis for evaluating the sports experiences of their children
Sport Administrators—to set the levels of performance expectations from their coaching workforces.
The Standards 2nd Edition are available for sale online from the National Association of Sport & Physical Education (NASPE). For more information, please download the Standards brochure here.
The Standards are also used by the National Council for Accreditation of Coaching Education (NCACE) for evaluating quality coaching education programs. For more information on NCACE and accredited coaching education programs, visit their website.